The man that hath no music in himself,
Nor is not moved with concord of sweet sounds,
Is fit for treasons, stratagems and spoils;
The motions of his spirit are dull as night
And his affections dark as Erebus:
Let no such man be trusted.
(Shakespeare: Merchant of Venice)
Sunday Brunch Session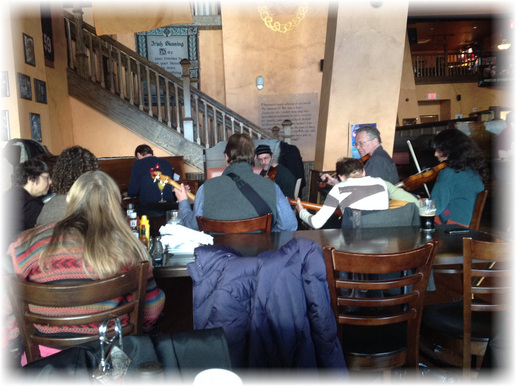 Regular Time: 12:00 - 3:00 pm
February thru August

Early Session Time in Effect:
11:00 am - 1:00 pm
NFL Season: September thru January

Regular Hosts
Doc Botzer and Marc Glickman
(Tag Team on Fiddle and Piano)

Lead Musician Calendar
December 2015
Dec 6: Charlie MacVicar
(Uilleann Pipes, Fiddle)
Dec 13: Spencer Nitchie
(Flute, Concertina, Fiddle)
Dec 20: Betsy O'Malley (Tenor Banjo, Fiddle)
Dec 27: Josh Dukes (Flue, Guitar)

January 2016
Jan 3: Marty Frye (Flute)
Jan 10: Jason Gaynor (Flute)
Jan 17: Graham DeZarn (Fiddle)
Jan 24: Peter Brice (Accordion)
Jan 31: Diana Havlin (Tenor Banjo)

---
The Pub
P. Brennan's is located on the corner of Columbia Pike and Walter Reed Drive, across from the renowned Arlington Cinema and Draft House, in the heart of a vibrant revitalization zone. It's easy to find and accessible by car or public transport.

Each session is hosted by Doc or Marc on a very nice Everett studio piano, and a rotating lead musician. The dynamic duo usually tag-team on the piano every Sunday. Musicians, as a matter of course, of course, bring their own instruments – and one tends to feel sorry for those who play the likes of concert harps and who have to lug major pieces of equipment around.

Doc, however, who is nothing if not exuberant and enthusiastic, goes above and beyond – since he provides not only his own fiddle but his own piano!! Fortunately, he doesn't have to constantly drag it from his home in Maryland – post-session each week, it's wheeled into safe storage in the pub.

Parking
Free parking on Sundays on the nearby streets ... Around the corner on Walter Reed Drive and 11th Street.
Also — Underground parking is free on Sundays at the Halstead Apartments. The entrance is on S. Walter Reed Drive. The pub is located just above the garage. The garage is free on Sundays, but the machine will take money if you give it.


From DC

Take US-1 S into VA
Take Exit onto I-395 S
Take exit 8A to merge onto VA-27 S/South Washington Blvd toward S Arlington Ridge Rd
Take the VA-244 W/Columbia Pike ramp towards Baileys Crossroads
Turn right at Columbia Pike/VA-244 W.
P. Brennan's approximately 1 mile from here on the left at the intersection with Walter Reed Drive

From MD

Take the I-495 S to Northern VA.
Take the US-50 E/Arlington Blvd exit toward Arlington
Take a slight left at Arlington Blvd/US-50 E
Turn right at S Fillmore Street
Continue onto S Walter Reed Drive
Turn right at Columbia Pike.
P. Brennan's is on the left.

Monday night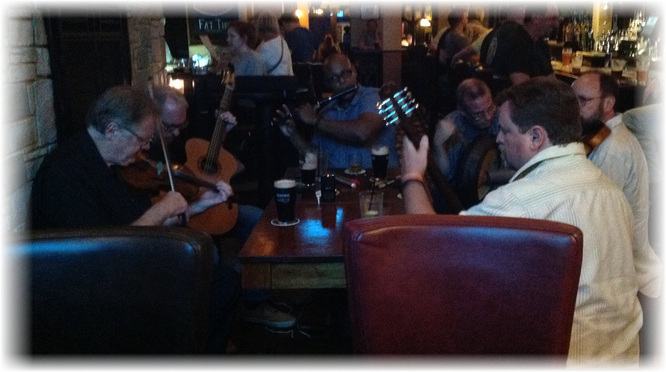 Old Town Alexandria
112 King Street
Alexandria, VA 22314
703-739-1124
Irish pub at the bottom (river) end of King Street in picturesque Old Town Alexandria. Irish music session every Monday night from 8 to 11 led by the incomparable, Brendan Mulvihill, on the fiddle.

Brendan learned to play the fiddle from his father in the Bronx, and by 1972 was accomplished enough to win the All-Ireland Fiddle Championship. In the mid-1970s, he moved to the Maryland suburbs of Washington, D.C., and formed the group The Irish Tradition with Billy McComiskey and Andy O'Brien. He has recorded albums as a soloist, as a member of The Young Tradition, and as a duo with pianist Donna Long.

Brendan, who now lives in Alexandria, and Baltimore's McComiskey are regarded as the foundation on which the vibrant D.C.-Baltimore Irish music scene has been built. We are fortunate to be able to come every Monday night and hear a legend playing in his legendary and unmistakably vigorous style – veritably in our own backyard.